Meet Prem Aithal
Cancer activist raises awareness for survivor needs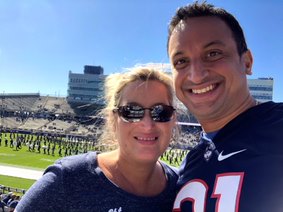 Prem Aithal was 28 years old and watching the college football national championship with friends when he first experienced testicular pain. Days later came a whirlwind of activity, including a doctor's visit, ultrasound and surgery, all in one day. Hearing his diagnosis of testicular cancer, Prem immediately shifted into survivor mode with a no-fear, "let's do it" attitude.
Fortunately, decades of cancer research have made testicular cancer highly curable. Following his initial surgery, Prem elected to have a lymph node dissection and chemotherapy to reduce his risk of recurrence.
Every cancer needs to become the 'easy cancer.' The only way to find more cures is through research.
Prem Aithal
More Research Needed After Cancer
Although Prem returned to work a few weeks after treatment, he faced numerous secondary conditions as a result of his cancer, including four bowel obstructions and degenerative hips at a young age. In addition to the physical aftermath of cancer, Prem knows firsthand how grueling the mental aspect can be. Like many survivors, routine tests can bring on "scanxiety" over what medical issues he may face next.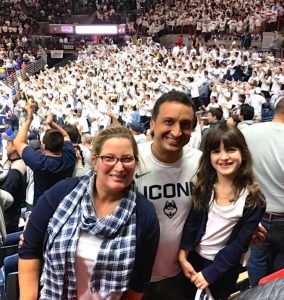 Today, when Prem is not busy with work or cheering on the UConn Huskies with his family, he actively raises funds and awareness for cancer research, especially for the needs of young adult and adolescent cancer survivors. Prem is convinced lives can be extended and cures can be found faster if additional money is invested in cancer research. With thrivers like Prem, we are on our way to achieving Victory Over Cancer®.
Donate Now
Tell Your Story