Meet Enzo Grande
After a childhood spent in hospitals, a young football fan fights to end pediatric cancer
As a toddler, Enzo loved Scooby-Doo, watching "The Wiggles," going to pre-school and playing with his twin sister Larissa. But at just three years old, Enzo's world turned upside down.
While visiting Disney's Blizzard Beach Water Park, Enzo's mom noticed he wasn't his usual self. Instead of filling the room with his spirited energy, Enzo was fatigued, pale and feverish. The next day, they went to see "Cars 2," but his mom knew something wasn't right after he fell asleep during the movie.
Enzo and his mom left the movie early and went to an urgent care. Before they knew it, Enzo was in an ambulance and later admitted to the ICU. The doctors ran a battery of tests, and later that night, Enzo's parents received the news no one wants to hear – your child has cancer.
Fighting Leukemia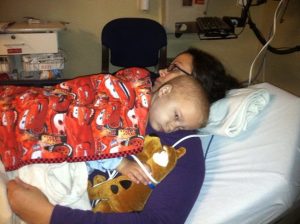 Suddenly, Enzo and his family faced a new norm. Enzo spent the next month in the hospital as doctors figured out what kind of leukemia he had. Thankfully, Enzo's cancer did not fall into the high-risk category, but he faced a daunting treatment protocol nevertheless. Enzo was in-and-out of hospitals, receiving different forms of chemotherapy every day for nearly four years.
Ten months into his treatment, Enzo suffered organ damage as a result of the chemotherapy, making him very sick. As his body began to turn yellow, doctors were unsure what was causing the problem. Enzo and his family feared a second cancer could be growing.
After many tests and visits with health experts, Enzo was diagnosed with Gilbert's syndrome, a relatively common liver condition that was likely affecting how his body was responding to the cancer treatments. Enzo's care team decided to scale down the dosage of chemo to a level his body could withstand. Twenty blood transfusions, a liver biopsy, 18 spinal taps, four bone marrow biopsies and countless doses of chemo later, Enzo beat leukemia.
A Champion for Cancer Research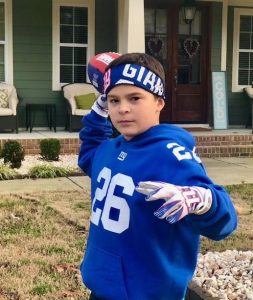 Today, 13-year-old Enzo continues to live with the same fighting spirit. Even though he is cancer-free, Enzo battles the lasting effects of treatment. His brain struggles to produce enough hormones for proper developmental growth, and learning disabilities make school more of a challenge. With each monthly checkup and lab test, Enzo worries anew that the cancer may return.
However, Enzo knows a thing or two about tackling obstacles. He is a determined and talented wide receiver on his football team and loves to play video games. Support from his friends and family also makes a difference, especially from his twin sister Larissa who continues to stick by his side no matter what.
When he's not working hard on the football field or cheering on the New York Giants, Enzo pursues one of his greatest passions – raising money for cancer research.
"Cancer research is important because other young kids shouldn't be going through cancer," said Enzo. "We just want cancer to go away because no kid or parent should worry about whether or not they will make it."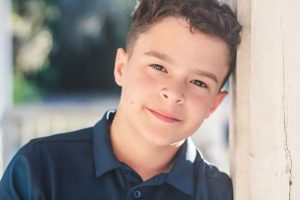 Enzo wishes to follow in the footsteps of Dick Vitale and raise as much money as he can for cancer research, maybe even opening his own hospital one day. Ultimately, Enzo wants to ensure that other kids have more than a fighting chance.
This year, Enzo plans to hold his own epic fundraiser for the Dick Vitale Pediatric Cancer Fund. You can join Enzo to end childhood cancer. Learn more here.
Donate Now
Tell Your Story