Meet Drew Adams
Meet Drew Adams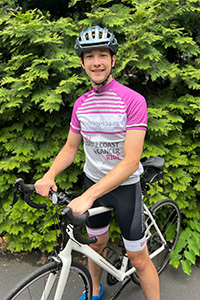 For Drew Adams, September will be an exciting and challenging month.
In just a few weeks, he'll be hitting the road alongside more than 126 of his Bristol Myers Squibb colleagues for the Coast 2 Coast 4 Cancer (C2C4C) bike ride, an annual three-week cross-country cycling endeavor to raise funds for the V Foundation. Drew is kicking off the event by riding in the first leg, Cannon Beach to Bend, OR, where he'll be covering up to 80 miles per day for three days.
As a first-time cyclist, this is no easy feat, but he is taking on the challenge for very personal reasons. This ride is a special opportunity to raise money for cancer research, honor his family members who have been impacted by the disease, and advocate for early detection, which saved his own life just 15 months ago.
In March 2021, Drew noticed an unusual lump in his testicle and was referred for an ultrasound by his primary care physician. At that time, both Drew and his doctor were optimistic that it was a precautionary measure and there would be nothing of note.
"I have a tendency of trying to yuk it up with some of our doctors and just try to make their day a little bit different," said Drew. However, the appointment took a somber turn. "This tech just got very quiet. At that point, I had a feeling that something was going on."
Drew was diagnosed with testicular cancer at just 31 years old and advised to have immediate surgery.
"It's such an overwhelming experience to hear that," said Drew. "I tried to wrap my brain around the kind of questions I needed to understand."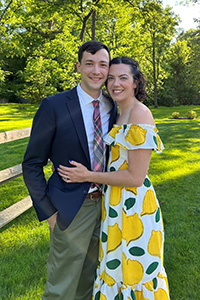 With only a few days to make a decision, Drew leaned on his wife, Rosie, to help him sort through the many complex emotions and thoughts. "She was so supportive throughout this entire process. I certainly wouldn't have been able to do it without her."
Five days after receiving his diagnosis, Drew underwent surgery. Thanks to advancements in cancer research and surgical techniques, doctors were able to identify and remove the cancerous areas in a single procedure. Drew is now cancer-free and continues monitoring through blood tests, x-rays and CT scans every few months. Through this experience, he has become a vocal advocate for self-exams and early detection.
"Testicular cancer can spread very quickly, but the benefit is that it is very good at showing up in diagnostic tests. The process of testing regularly is not super invasive, but you do have to keep on top of it for five years," Drew noted.
While Drew is grateful for his successful surgery, he knows that not every individual or type of cancer has the same outcomes. He has lost two uncles to cancer, both leaving legacies that he carries on every day through his passion for science and the outdoors.
"[One uncle] passed away with his second child still in the womb. That was such a heavy, heavy experience," said Drew. "Just knowing there's anything I can do to try to avoid that situation happening again to anyone is really a driving factor."
With this motivation, Drew has quickly risen to the challenge of riding multiple times per week for the big event. With 50-mile training rides becoming the new norm, he also uses this time on the road to meditate and reflect on his own life experiences.
As he looks forward to the C2C4C ride ahead, he knows that the funds raised for the V Foundation will make a difference in the lives of others. He is riding for a future where more people can celebrate their health and enjoy more time with the people they love, just as he is now.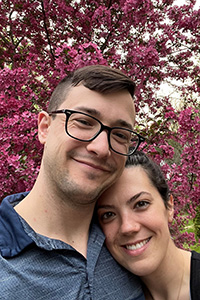 "[I hope for] a generational step forward in treatment," he said. "For me, victory over cancer means large jumps forward in what the medical community is able to do for patient lives."
Drew is a thriving example of those large jumps forward as he embarks on this next adventure to support a cause that saved his life.
To learn more about the Coast 2 Coast 4 Cancer ride, visit the website here.
Donate Now
Tell Your Story