Meet Alex Peavey
VCU mindfulness coach perseveres beyond all odds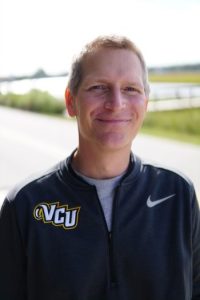 Alex Peavey's "Don't Ever Give Up" attitude keeps him thriving as he waits for cancer research to catch up. When he was blindsided with a diagnosis of stage 4 metastatic prostate cancer at 39 years old, his doctor feared he wouldn't survive through the weekend. Yet, nearly five years and a second cancer diagnosis later, he continues to inspire others as he perseveres against all odds.
It all started with a strange swelling in his ankles and a feeling of extreme fatigue. Notoriously healthy and never far from a sports venue, Alex soon learned he wasn't simply tired. Blood tests revealed that his kidneys were failing—and fast. At one Friday appointment, Alex's doctor urged him to get to the ER immediately, fearing he might not make it until Monday.
By Sunday, he was in the ICU with 60% renal failure. Surgeries to drain his kidneys kept him alive until the biopsy results revealed a devastating cancer diagnosis.
Feeling Like Hell Yet Fueled by Work
After spending a week in the hospital undergoing three surgeries, Alex stabilized and was able to return to work as a high school lacrosse coach and counselor. His first day back, his students were shocked to see him 35 pounds lighter. Yet, there was no way he would miss the game that night against their biggest rival.
Once lacrosse season ended, Alex spent months receiving chemotherapy. When he returned to work that fall, he was open with his students and colleagues about his cancer diagnosis. But no one knew that hidden beneath his clothing were tubes running out of his back and down his thighs, allowing his damaged kidneys to drain. Alex was doing what he loved, but soon realized that his body would not let him continue at his usual nonstop pace.
Keeping Grounded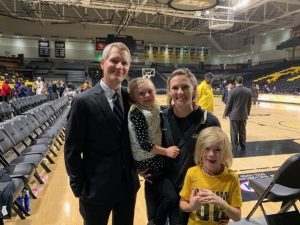 Mindfulness has been a part of Alex's life since he was a teenager, when he read a book on mindfulness in sports by legendary Chicago Bulls Coach Phil Jackson. When his close friend and college classmate Mike Rhoades offered him an opportunity to join the basketball coaching staff at VCU, Alex saw an opportunity to bring his coaching to a new level, with a focus on mindfulness like his mentor George Mumford, a leading expert in sports psychology & performance. The VCU Rams started the 2018-2019 season at ninth place in the Atlantic 10 Conference and finished first. It was a phenomenal accomplishment for the team—and for the coach on the sidelines who was fighting for his life.
Although prostate cancer treatments have a 90% success rate when the cancer is detected early, routine cancer screening doesn't begin until age 50. Alex's cancer had already spread to his bones and lymph nodes by the time he was diagnosed. As he gathered second opinions around the country, Alex realized there is a proven formula to treat prostate cancer in older men, but he did not fit the mold. Alex had only a 3% chance of surviving five years.
In the face of that challenge, Alex found teaching mindfulness a true blessing. "The energy from players and coaches gives me so much life," Alex says. "Mindfulness gives us the ability to let our emotions bubble up and settle back down so we can control our response to adversity—something I not only teach but practice every day having cancer."
COVID and Cancer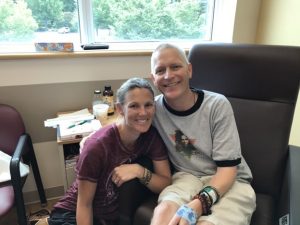 The VCU players had a singular focus—the coveted NCAA Championship. They were ready . . .  and then the pandemic hit.  Sports came to a screeching halt, and the Rams had to wait another year to take the court in the tournament they had worked so hard for. However, before the opening jump ball, the team was pulled from the coliseum due to a COVID-19 exposure. In quarantine, their tournament dreams were shattered once again.
A curveball came Alex's way, too. Doctors discovered that a second cancer, a high-grade neuroendocrine carcinoma, had intertwined with his prostate cancer, giving him a projected ten months to live.
Living Beyond Science
Once again, Alex underwent chemotherapy. Once again, he beat all odds. More than a year later, he celebrates each day: "I'm still here. It's a beautiful thing."
But the cancer is persistent, too. Unfortunately, the same chemotherapy can't be repeated, and his blood levels remain too low to try experimental treatment. So, he waits and monitors his cancer for changes, all while taking preventative medications.
"I have lived beyond the science. Amazing doctors have treated me, but they don't know what to do anymore," Alex says. "It is not their fault. No one has ever been in my situation getting prostate cancer at such an early age with a secondary cancer on top of it. I am so fortunate to be alive—no one has made it this far."
Even though there isn't another treatment option for him now, Alex knows science has played a big role in every day he has had since that first shocking diagnosis—not only for himself, but for his children who have grown up with cancer as part of their lives.
"Cancer research is vital to our quality of life while battling," Alex says. "And for those who crossed the finished line, still fighting cancer and pulling the last arrow out of the quiver, we need research to give us more arrows in the bag."
Donate Now
Tell Your Story