I met Gil, a fellow Oklahoman, known as the "Okie from Muskogee," through my father, and through our shared love for the nursery business. While impassioned to succeed, having established the Greenleaf Nursery with his family, Gil harbored a dream to establish a world-class winery. It was this endeavor that finally brought us together.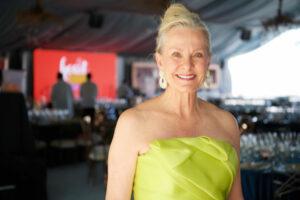 Although Far Niente was founded in 1885, Gil and I rescued the long-abandoned stone winery in Oakville in 1979, and began restoration of the historic estate. It was our dream to establish a "Napa Valley Wine Estate" that would share the stage with the great wine estates of the world, and gain a reputation for excellence that would reach far beyond the borders of the Napa Valley. After years together working on our dream, Far Niente, Nickel & Nickel, and Dolce became a globally recognized producer of highly sought-after wines. It was truly Gil's pride & joy to see his dream come to fruition.
Due to an aggressive form of melanoma, Gil passed away in 2003. Just three months before his death, despite being gravely ill, he made his final public appearance at the V Foundation Wine Celebration's signature Saturday night gala. Gil got up to the microphone, thanked everyone for what they were doing for cancer research, and said, "It is going to be too late for me, but not too late for people down the road, thanks to you guys." He encouraged the audience to "do what they love, do it with passion, and do it now," and urged them to do whatever it took to live a fulfilled and happy life. He truly channeled the spirit of Jim Valvano in those moments.
In the battle against cancer, time is precious, and it's been my continued passion, in memory of Gil, to support much-needed cancer research through the V Foundation. It's his spirit that drives me to live a happy life, and I have been so fortunate to witness the endowment of the Gil Nickel Fund, which was awarded to The UCLA Jonsson Cancer Center in support of melanoma research, in 2003.