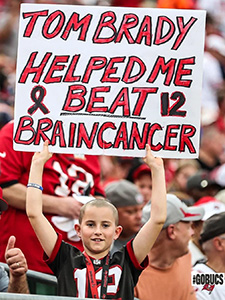 If you are a Tampa Bay Buccaneers fan, or an NFL fan in general, you may know part of Noah Reeb's story. You might have seen him in the front row of Raymond James Stadium in October holding a sign that read, "TOM BRADY HELPED ME BEAT BRAIN CANCER." 
To you, his story started there. But really, it started long before that Sunday in Tampa Bay.
Noah was living a "normal" life in Utah, thriving in elementary school and playing flag and tackle football. He started as quarterback alternating as a wide receiver for his teams. His true love and passion is playing quarterback like his idol – Tampa Bay quarterback Tom Brady. Then, suddenly his entire world was turned upside down in February 2021.
First, his mom noticed he started having migraines. She had a feeling something was off and took him to multiple doctors in search of answers. Then, an intensive scan revealed a mass in the center of his brain, confirming it was cancer. Noah was rushed to the hospital immediately.
"The words that you have cancer are the scariest thing that could possibly happen to you," Noah said. "But as you progress in treatment, you learn so much and see what kids have been going through for a long time. When you come out of it, it is the biggest achievement you have made."
Noah went through four operations and chemotherapy to fight the cancer. It was a long, tough journey with many hours in the hospital. He credits his attitude that helped him get through the treatments, with the same mantra that Jim Valvano spoke at the 1993 ESPYS.
"You have to have faith and know it is your attitude that can get you through – don't ever give up," Noah said.
Between treatments, football took his mind off what was going on and made him happy. Whenever he could, he would toss the football in his yard or in the halls of the hospital to have a break from his reality. He continued to play quarterback with his flag football team during chemotherapy.
FINDING INSPIRATION
After his second brain surgery, Noah had just come from the operating room and was recovering in the Pediatric Intensive Care Unit. He was in incredible pain as the anesthesia began to wear off. In order to monitor his brain activity, he wasn't immediately given follow up pain medication. The pressure and pain in his head were unbearable.
Because of COVID, only one parent at a time was allowed in the room with him. Noah's mom Jacque went first. She held a cool washcloth to his forehead, spoke softly and breathed with him through his wails and sobs. With her mother's touch she was finally able to calm him and get him to rest. Noah's dad James who was waiting in the hall could only watch and listen from a distance as the automatic doors to the PICU opened and shut with the coming and going of caregivers.
When Jacque came out and James was allowed in, he found Noah resting peacefully. He stood at the foot of his bed. Not wanting to wake him, he waited quietly and considered what he might do to help him while he listened to Noah breathing between the beeps and humming of the medical equipment.
When Noah opened his eyes and saw his dad, he almost inaudibly croaked with a scratchy voice, "Hi Dad". James whispered back, "Hi son, do you need anything? Water? Ice? Another pillow?" Noah answered, "No dad, I just want one thing please?" "Anything," James said. Noah tried to clear his throat and then said slowly, "I just really need to watch highlight videos of Tom Brady."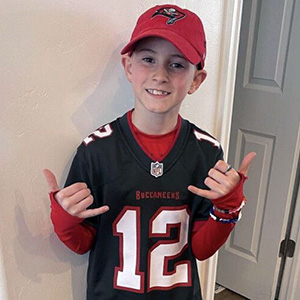 Noah is one of Brady's biggest fans. As a fellow quarterback, he has watched and learned some of the skills of the position through Brady's highlights.
One afternoon on the way home from treatment, Noah was having a tough day. He was still in the car crying and just feeling down. His mom was in the car with him, and her phone dinged. It was a video message from Brady. Brady greeted him and told him he was pulling for him through treatment.
"It was the most awesome thing that has happened," Noah said. "I was so low and then that video popped up and I was so happy."
Following that moment, Noah's parents made a promise. After treatments, and once he was well enough, they would take him to watch Brady play live at a real home game in Tampa at Raymond James Stadium. And that is what they did.
After eight long months, the Reebs purchased an unlikely pair of third row tickets that unexpectedly went up for sale at the last minute for the Buccaneers and Chicago Bears game on October 24, 2021. Noah's mom could not come, but he and his dad attended the game and got to watch the Buccaneers defeat the Bears, 38-3.
The most meaningful part of the game was before the first snap. The father-son duo was in the first row behind the home bench. Noah was holding his handwritten sign over his head, the sign they almost left in the hotel room. Noah simply wanted to somehow tell Tom Brady thank you for the support he gave him during treatment. Because Noah had written the message on both sides of his sign, and because countless others have been affected by cancer, it was easy for fans to cheer for Noah and try to draw Brady's attention to the ten-year-old survivor.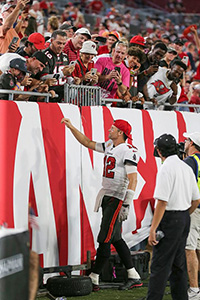 It took nearly the entire game but finally and unbelievably Tampa players began to notice Noah. First defensive players William Gholston, Jason Pierre-Paul and others, and then somehow, wide receiver Chris Godwin saw what was happening. He came over and congratulated Noah, gave him his game gloves and shook his hand. As he walked away, he stopped for a moment and said, "Hey Noah, I got you." He then went immediately to Brady to get him to wave at Noah.
That's when the unimaginable happened. Brady stood up, saw the sign and Noah, grabbed a hat, and actually went to meet him. He put the hat on Noah's still-shaved and scarred head and shook his hand. An incredibly unlikely storybook moment for a young boy and all those around him after a long, arduous journey.
GETTING CONNECTED WITH THE V
Noah and his family were connected with the V Foundation for Cancer Research as they attended the Dick Vitale Gala in May. He is officially cancer-free with his recent scans being clear.
"It [cancer research] means that we will eventually find a cure for cancer, and this [harsh cancer treatment] won't have to happen anymore," Noah said.
Noah was one of the brave individuals honored at the gala in the Dick Vitale All-Courageous team.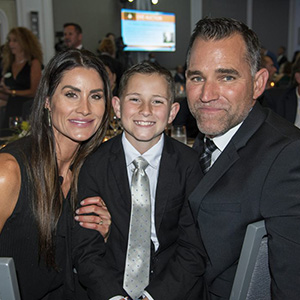 "It's awesome that Dick Vitale can do all this for pediatric cancer patients," Noah said. "I think it's cool that we can raise $11 million in just one year. I had so much fun being there and getting to meet other kids who have gone through the same thing as me and who have fought cancer."
Noah's relationship with Brady and the Buccaneers continued past the game in October.
In January, Noah was surrounded by family in his home in Utah when he received another video from Brady. This time Brady, the Buccaneers and the NFL partnered to send Noah and his family to the 2022 Super Bowl.
"It was awesome," Noah said of the Super Bowl. "I got to meet some players and it was a great game."
Football remains one of his favorite pursuits. He aspires to be an NFL quarterback when he grows up. He loves the position because it requires leadership, dependability and someone who teammates look up to.
Noah's scans remain clear and he feels good. He continues to share his story in hopes that it can inspire and give hope to children and their families who are in cancer battles. Noah believes in his own words, "Champions are made in the fourth quarter." To him this means that no matter the odds or the time on the clock, you must always fight, you must never quit.
"You have to keep moving on with your life and keep progressing," Noah said. "Keep being positive. You have to know, 'Hey I am going to beat this.'"
More of Noah's story can be found on the Voices For Victory podcast.
Donate Today